Holiday Trivia Challenge, Pt 2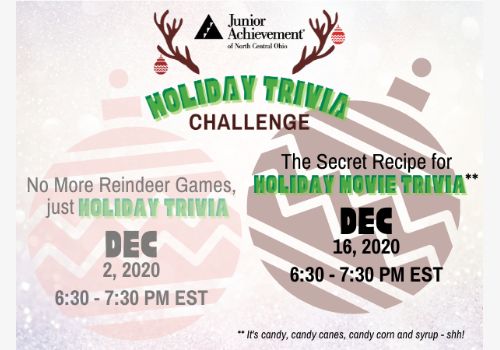 The Secret Recipe for Holiday Movie Trivia
Event Completed!

When: Wednesday, December 16, 2020
Where: Virtual
Time: 6:30 PM EST
2020 won the Ugly Sweater contest, the cat and tree are taking on nap on the floor, and you're contemplating the nutritional benefits of a sugar cookie-based diet.

HOLD YOUR REINDEER - JA is here to help! While we can't promise non-broken ornaments (but we do know that sugar counts as a vegetable as it's plant-based), we can help bring your family and friends, nearby or across the globe, together for spirited competition this holiday season.

Join us on Wednesday Dec. 2nd and 16th for our virtual Holiday Trivia Challenge! With two chances to play and prizes to win, showcase your trivia mastery in:
* General Holiday Trivia (Wednesday, Dec. 2nd)
* Holiday movie Trivia (Wednesday, Dec. 16th)

Trivia runs 6:30 - 7:30 PM EST and cost of play is $15 per night per household or $25 for both nights per household.

Prizes awarded to weekly and overall winners; you must play BOTH nights to be eligible for the GRAND PRIZE (shh, it's a surprise - so stop shaking the box!)!
Need More Information?
For more information about this event, please contact
Nikki LaRose