North Canton Hoover High School JA team finlit named National "JA Company of the Year"
Teens Competed with Students from 14 other JA Student Companies to Win National Title
Author: JA Staff
Entrepreneurship
Published: Monday, 28 Jun 2021
---
Sharing
JA Student Summit Awards 2021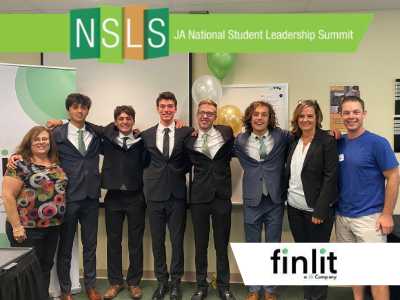 Image caption: Denice Schafer (JA of NCO VP of Programs), finlit team members, Lori McCleese (NCO President) and Hoover High School teacher Mike Grady celebrate 2021 NSLS win
On Thursday, June 24, the teen entrepreneurs of finlit, a JA Student Company from North Canton, Ohio, representing Junior Achievement of North Central Ohio, were selected from among 15 JA student companies as the JA Company of the Year while participating in Junior Achievement's (JA) 2021 National Student Leadership Summit (NSLS). The national competition took place virtually from June 22 to 24.
Finlit's mission is to instill financial literacy in every child and empower all children with the skills they need for a successful future. Finlit's product is "Budget or Bust," a fun, interactive and engaging board game designed to teach kids financial literacy.
"On behalf of our entire staff and board, we want to congratulate both team finlit and team Fulfilled for being selected to participate in the National Student Leadership Summit, which is an accomplishment in and of itself. Team finlit exceeded our expectations at every turn, and we are thrilled their innovation, grit, and dedication to the mission of their company was recognized and rewarded." Said Lori McCleese, President of JA of North Central Ohio.
In addition to winning the JA Company of the Year title, the teens representing the first-place student company were each awarded a $3,000 JA Company of the Year Scholarship. To the five students representing the second-place team, all were awarded $1,500 scholarships, and $1,000 scholarships were awarded to each of the five students representing the third-place team. All scholarships were awarded by the Achievement Foundation.
Accepting the JA Company of the Year Award, finlit CEO Gavin Williams shared "adversity is something you have to face head on and that is something that I carry with me every day growing up the way I did in Akron, and you have to apply that in business as well. Without having hardships or experiencing failure, you fail to learn, and you fail to grow. For our team, adversity was absolutely an integral part of our learning experience." Williams went on to thank his teacher Mike Grady for giving him all the tools he needed to succeed.
Junior Achievement's National Student Leadership Summit is a contest of business skills, ingenuity, and innovation that focuses on the accomplishments of the U.S. of JA Company Program® students, ages 15-19, during the 2020-2021 academic year. JA Company Program students start and run a real business enterprise under the guidance of a volunteer from the local business community. They devise and market a product or service that fills an unmet consumer need and recruit investors for their company.
The student companies competing at the NSLS were assessed on both their business performance as well as the personal and professional development of individual team members. Scored elements of the competition include a self-produced annual report and commercial, a live virtual presentation to a panel of business leaders, and interviews with judges.
The following awards were presented to finlit during a virtual awards ceremony by Junior Achievement USA:
JA Company of the Year – First Place: Awarded to the student businesses that most effectively demonstrated their companies' achievements, as well as the personal development of each team member.
EY Innovation Award: Presented to the student team that effectively demonstrated how its product, service, strategy, or process is an innovative solution to an existing problem.
In winning the award, the finlit team demonstrated creativity, impact, scalability and lessons learned throughout its business endeavor.
"EY has always believed that if we want to have a stake in the future, we must support and foster the next generation of entrepreneurs in the present," said Marna Ricker, Junior Achievement USA Board member and EY Americas Vice Chair of Tax Services. "I'm awed by the efforts put forth by all this year's teens and proud to congratulate our EY Innovation Award winning team finlit for their standout business acumen, passion and creativity."
FedEx Global Possibilities Award: Awarded to the student company that best exhibits the principles of global connectivity.
The teen entrepreneurs completed additional sessions on the concept and impact of global access, a program developed by FedEx which complements JA Company Program®. The JA student company that created a marketing plan for a product or service that best demonstrated a comprehensive understanding of global access took top honors.
"At FedEx, we believe a connected world is a better world. We empower everyone from small business owners to Fortune 500 companies to reach customers all over the world", said Rose Flenorl, manager of Global Citizenship at FedEx. "FedEx's Global Possibilities platform celebrates the power of global connectivity and the next generation of innovators on the verge of the next big idea. The Global Possibilities Award recognizes a student-run business that best exhibits the principles of global connectivity: Driven by Innovation, Connecting to New Markets, Fueling Community Development and Sustainable and Social Responsibility."
Select a button below to see how you or your organization can get involved with Junior Achievement of North Central Ohio, Inc..
Donate
Volunteer
Request A Program
We use cookies to provide you a personalized experience. How we do this is by analyzing user behavior on our site and sharing data with our advertising and analytics partners. You consent to our cookie policy if you continue to use this website.