From indoor gardens to eco-friendly scent solutions
Check out what our JA Company students are doing!
Author: Ginnie Adams
Entrepreneurship
Published: Monday, 19 Dec 2022
---
Sharing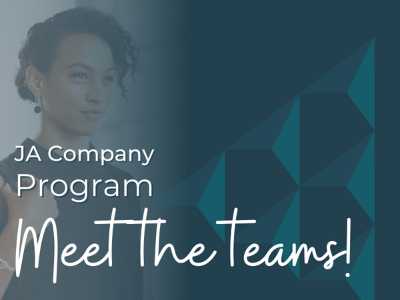 Image caption: Get ready to meet the 2022-23 JA Companies!
It's a 100+ year tradition that keeps on going.
Since 1919, students across the US have participated in the JA Company Program ®, first in after-school programs and later as classroom curriculum.
The premise? Young people participating in the JA Company Program start and run a real business enterprise under the guidance of a volunteer from the local business community throughout the duration of one school year. They devise and market a product or service that fills an unmet consumer need and recruit investors for their company.
Legacy
JA Company Program has a long history in Stark and surrounding counties. Stark Co. students have taken home the title of JA Company of the Year 4 times over the past 5 years. But perhaps, more importantly, are the lifelong lessons, hands-on experiences, personal growth and professional confidence that organically accompany this program.
As the 2022-23 school year kicks off, students from Aurora High School, Barberton High School, GlenOak High School, North Canton Hoover High School, Jackson High School and Lake High School are preparing to embark on their own JA Company Program journey.
Ready to meet the teams?
Battery Drop – GlenOak High School
Battery Drop's mission is to help protect our environment by recycling used batteries, avoiding soil and water contamination through landfill disposal.
View Battery Drop's profile page
Emocean – Hoover High School

Help children learn about and express their emotions through this interactive board game.
Employed – GlenOak High School
Employed's Employability Kit demystifies the process of a job interview and prepares the user for success!
HomeThyme – GlenOak High School
Skip the fast food line and spend more quality time in the kitchen with your family, thanks to HomeThyme's Vertical Herb Garden and easy-to-make recipes.
KitCo – Barberton High School
KitCo invites you to spice up your movie night experience with a Basketeer!
Millionaire Mindset – Jackson High School
Break down complex financial concepts and make learning about investing and saving for the future fun with the Millionaire Mindset board game.
View Millionaire Mindset's profile page
OPEER – Jackson High School
Who said peer pressure has to be negative? Meet OPEER, creators of a card game that will make you re-think peer pressure!
Ripple – Hoover High School

Ripple is an environmental card game developed to teach children ages 7+ about the positive and negative actions they have on the environment.
Safe Chain – Lake High School
Safe Chain is a trendy, visual reminder to drive safely and to "Text me when you get home."
View Safe Chain's profile page
Scentsible Solutions – GlenOak High School

Scentsible Solutions offers an alternative to harsh chemical-based products with their line of dryer sheets, wax melts and air freshners, all made with essential oils and natural ingredients.
View Scentsible Solutions' profile page
Signs4Sign – Lake High School

Signs4Sign helps you express your unique personality with a variety of ready-made designs or a custom one of your own.
View Signs4Sign's profile page
Touch Co. – Jackson High School
Touch Co. aims to create a solution for the anxiety and stress that are common in everyday life with their product, Touch Tag. By introducing alternative and customizable sensory experiences, the Touch Tag helps brings calm to challenging situations.
Tough Talks – Jackson High School
Tough Talks is designed around uncomfortable conversations; their unique card game features a variety of subjects with the goal of promoting active listening and respectful discussions.
View Tough Talks' profile page
Value Designs – Lake High School
Value Designs is a clothing brand focused on raising awareness for human trafficking. Join the mission and check out their designs today!
We are excited to be a part of these young entrepreneurs' journeys, now and moving forward!
Select a button below to see how you or your organization can get involved with Junior Achievement of North Central Ohio, Inc..
Donate
Volunteer
Request A Program
We use cookies to provide you a personalized experience. How we do this is by analyzing user behavior on our site and sharing data with our advertising and analytics partners. You consent to our cookie policy if you continue to use this website.